Commercial Door Hardware Defined
Commercial Door Hardware is used to secure businesses, schools, community buildings and even residential homes. Many homes have been switching to commercial door hardware for the added security it brings to their private and personal spaces. There are several factors that make a piece of door hardware "commercial" grade. Below are some of these factors:
Constructed of heavy duty material
Designed to endure additional wear and tear from heavy usage
Provide added security to your building or home
Also in the category of door hardware are items that are designed to increase the efficiency of which a door can be utilized. Items like door closers and exit devices are ideal for doors which receive heavy amounts of traffic.
Are often used in areas with high traffic volume. Exit devices allow hands free operation, making them ideal for many public buildings, hospitals and businesses. These are designed with a large push bar, spanning a large portion of the door and are often used at emergency exits.
Allow the door to automatically close after someone has entered or exited the building. These devices are great for security purposes; ensuring that your property is not vulnerable after someone has come or gone. In addition, these also provide an extra safety mechanism for fire prevention by helping to keep the fire from spreading.
Accessories
Our selection of commercial door accessories includes kick plates, pulls plates and push plates. These plates are typically larger than their residential counter parts and are made from heavy duty materials, allowing them to meet high traffic demands.
Commercial door levers are great for children, the disabled and elderly persons. They're easier to grip in comparison to a knob and are perfect for schools and businesses. Most commercial door levers are compliant with ADA requirements.
Commercial door knobs are made with heavier gauge metal construction, and like all commercial door hardware these are built to last. Commercial knobs can handle high traffic demands while keeping your property secure.
Commercial deadbolts are one of the most popular tools used for entrance security. They provide additional security to any lever or knob. Commercial deadbolts are often larger in diameter, drill resistant and contain anti-pry shields. A deadbolt is the pit-bull of door security and is great for both commercial and residential applications.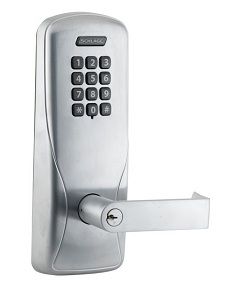 BHMA (Builders Hardware Manufacturers Association) is a private non-profit organization that operates to ensure performance standards for builder's hardware. The BHMA is accredited by the American National Standards Institute (ANSI). The process to have a product certified is strictly voluntary.
ANSI Grade 1: Heavy Duty Commercial Security
ANSI Grade 2: High Residential Security
ANSI Grade 3: Residential Security
A product that is UL Listed meets UL's safety certification services which include testing, evaluation, and factory assurance during production. UL is a global independent safety science company whose goal is to enhance the safety of products, as well as help give consumers confidence in products they have tested. For door hardware, a product is typically UL Listed to withstand fire exposure for a given amount of time.