Omnia Hardware
Omnia is renowned for its door hardware and cabinet hardware for the entire home. Whether you're swapping out the handleset at the front door or you're looking to replace door hardware throughout your home, Omnia hardware will provide an aesthetic and functional upgrade.
Omnia levers can give any door a new look, whether it's the modern and sleek simplicity of the Stainless Steel and Max Steel collections or the classic design and feel of its Traditions collection. These collections (as well as other Omnia levers), boast stainless steel construction and are ADA compliant.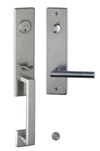 An Omnia handleset serves two mainpurposes at the front door. First, it provides a functional upgrade, giving your greatest investment top-notch security. It also creates a beautiful appearance at your front door, making the first impression you've been searching for.
The doors in your home aren't the only places that can benefit from Omnia hardware. If the cabinets could use a quick refreshing, think about Omnia cabinet hardware. Cabinet pulls, cabinet knobs, and hinges can quickly and easily rejuvenate and coordinate your bathroom, bedrooms, and kitchen.
If you're considering adding additional security at the front door, an Omnia deadbolt will do the trick. Manufactured from forged solid brass (one of the door hardware industry's most trusted materials), an Omnia deadbolt can complement your handleset with ease, while providing your home with reliable protection.

Omnia hardware has over 50 years of experience manufacturing the finest in door and cabinet hardware. Omnia has established itself as a stylish hardware brand with exceptionally functional features. Omnia takes great pride in innovating new products, designs, and features. Its products are often replicated, but never duplicated with the quality Omnia offers. The majority of Omnia hardware is found in residential homes, but can also be found in commercial buildings all over the world. Luxury apartments, offices, hotels and other commercial buildings not willing to compromise quality or function feature Omnia hardware.